You are here: Brands / Kirloskar Valves
CAST IRON SWING CHECK TYPE REFLUX VALVES
1. Check valves are used in pipe lines to lessen water hammer and to stop water from rising mains from flowing back to the pumps.
2. These valves can handle clear water with a maximum turbidity of 3000 ppm when used within the parameters of the pressure ratings shown above and at temperatures of up to 50 °C.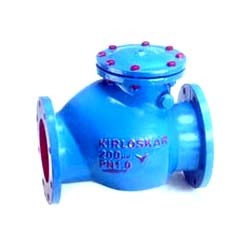 In order to preserve pump priming, foot valves are employed on the suction side of pumps to prevent flow reversal from the pump to the sump. Additionally, they stop foreign objects from entering the pump through the suction pipe. Within the limits outlined by IS:4038, these valves are appropriate for clear water.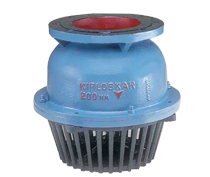 SLUICE VALVE(RISING/NON RISING)
1. Water that is clear, up to 5000 parts per million turbid, and up to 45 degrees Celsius.
2. Other fluids that are under the purview of IS:14846 and have maximum pressure/temperature conditions.
3. Valves with unique designs can be supplied up to operating temperatures of 180° C, subject to working pressure.
TAMPER PROOF KINETIC AIR VALVE
Kinetic air valves are commonly used in water pipelines and air venting/air admission services. The performance of a kinetic air valve is severely affected by tampering with the valve with an external mechanism. Tamper-proof Kinetic Air Valves provide longer service life and cost-effective maintenance. With a cast iron body, cover, and cowl it has a pressure rating of PN 1.0-1.6.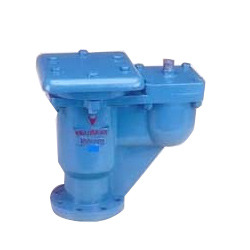 We might work together and might start a trustworthy work relationship for a long time.