High-Performance Butterfly Valve
Our Valves are produced according to International ASTM ANSI Standards, ASTM API Standards, and ASTM DIN Standards in India. 
Butterfly valves are suitable for simple as well as highly complicated ones. Our Butterfly valves are high-performance duty. Butterfly valves are suitable for both open/closed and rare utilization in controlling valves. They are obtainable in a broad category of sizes, materials, and models. Butterfly valves can be operated with multiple controls operations like electric/pneumatic actuator possibilities.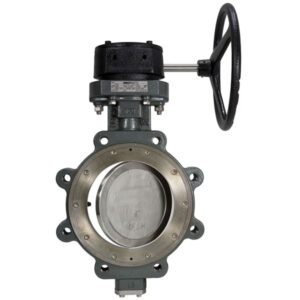 BENEFITS
For throttling control applications, one type of butterfly valve is now the industry standard: high-performance butterfly valves (HPBVs) or double offset valves. Their advantages include a straight-through flow path, very high capacity, and the ability to pass solids and viscous media.
TYPES
Double Eccentric Butterfly Valve
Triple Eccentric Butterfly Valve
BODY

:

WCB / CF8 / CF8M / DUPLEX / ALL BRONZE

DISC

:

WCB / CF8 / CF8M / DUPLEX / ALL BRONZE

SEAT

:

EPDM / VITON / NBR / PFA / PTFE / RPTFE

SHAFT

:

AISI 410 / AISI 304/AISI 316

MFG STD

:

API 609 / ASME B 16.34

INSP & TEST STD

:

API 598

OPERATION

:

MANUAL GEAR OPERATED / PNEUMATIC ACTUATOR / ELECTRIC ACTUATOR

ENDS

:

ANSI B 16.5 #150

HYD TEST PRESSURE

:

BODY : 225 PSIG (16 KG/CM2)
SEAT : 165 PSIG (11.5 KG/CM2)

SIZE RANGE

:

50 NB TO 600 NB (2″ to 24″)
We might work together and might start a trustworthy work relationship for a long time.