Our Valves are produced according to International ASTM ANSI Standards, ASTM API Standards, and ASTM DIN Standards in India. 
Globe valves are outside screw & yoke type, bolted bonnet, rising stem, and handwheel. Valves are profoundly suitable for services expecting constant operation and throttling. The internal passage within the valve turns the flow-through 90° changes of direction resulting in pressure fall and disturbance. Globe valves are commonly used where moderate control or regulation of flow is demanded.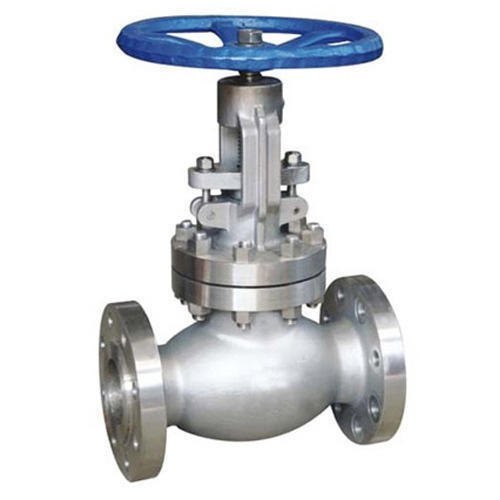 Globe valves are sufficient for all service media. The Globe Valves is usually faster to operate due to less travel. But requires much force to operate compared to Gate valves.
Advantages of Bolted Globe Valves:
Excellent shutoff ability.
Average to great throttling ability.
Shorter stroke (compared to a gate valve)
Available in tee, wye, and angle patterns, each offering unparalleled capacities.
Simple to machine or resurface the seats.
With the disc not attached to the stem, the valve can be utilized as a stop-check valve.
RANGE
| | | |
| --- | --- | --- |
| Valve Type | Class Rating | Size Range |
| Globe | 150# | 2″ to 24″ |
| Globe | 300# | 2″ to 24″ |
| Globe | 600# | 2″ to 12″ |
DESIGN STANDARDS
DESIGN STANDARD

:

BS 1873

TESTING STANDARD

:

BS EN 12266-1

FACE TO FACE

:

ASME B 16.10

END CONNECTION

:

Flanged End – ASME B 16.5
Butt Weld End – ASME B 16.25

PRESSURE – TEMPERATURE CHART

:

ASME B 16.34
MATERIALS
STRUCTURE

End Connection

Flanged End Raised Face, Butt Weld End, RTJ,. ETC

Operation

Hand wheel, Gear Operator, Electrical Actuator, Pneumatic, Hydraulic

MATERIAL

Shell

WCB, WC1, WC6, WC9, LCB, LCC, LC3, C5, C12, CF8, CF8M, CF3, CF3M, CF8C, CN7M, CD4MCu,
Hastelloy, Inconel, Duplex Stainless Steel

Trim

13% Cr Steel, 304 , 304L, 316, 316L, 321, 347, F51, Monel
We might work together and might start a trustworthy work relationship for a long time.